Stop stressing about money, once and for all.
Financial freedom is closer than you think. Let me show you how to get out of debt with the playbook that's already helped more than 4 million people.
Get a free consultation. No obligation! 
Everyone deserves financial peace.
My financial coaching program will help anyone who needs to:
Get out of debt (yes, it's possible!)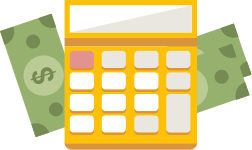 Build a custom budget that works for you
Navigate through a difficult financial time or crisis
Plan for a major life goal (ex: retirement, buying a house, college)
Establish healthy spending and saving habits
Learn how to save money without sacrificing living
Always struggling with money?
Can't seem to get ahead? You're not alone.
of Americans are living paycheck to paycheck
of Baby Boomers have less than $10k saved for retirement
avg student loan debt per 2016 graduate
avg credit card debt per household
It's time to restore financial control in your life.
Picture what your life would be like without the constant stress of money.
Escape the never-ending pile of debt and bills.
Have fun living while still making smart financial choices for the future.
Rest easy knowing you are properly prepared for a successful retirement.
The life you want, with financial freedom, is possible. It doesn't matter:
How bad your credit score is
What decisions you've made in the past
It's never too late to start. YOU can do it! I can help.
Don't know much about managing money?
With a financial coach at your side, you don't have to.
The blueprint for financial success
You don't need to be an expert in finance to understand the simple money-managing plans and tools I'll provide. We'll work together to customize a program that fits your specific situation and needs. We'll set smart goals, practice accountability and celebrate the wins… together.
Why work with me?
Working with a financial coach is one of the most worthwhile investments you will make in your life. Unlike other consultants, my coaching draws from time-tested methods that have already helped real people (just like you!) achieve real financial security. These techniques are highly effective easy to understand. And everything is personalized to your unique situation.
The only Dave-Ramsey certified coach in the Minneapolis/St. Paul metro
I'm not only passionate about personal finance, I'm also obsessed with getting results. That's why I've studied with Dave Ramsey, THE trusted voice on money management. I completed Dave's master coaching certification and am fully equipped to help you on your journey to financial freedom using the same tools and techniques that Dave has used to help millions.
"It's life changing."
You will walk away with an actionable plan and step-by-step tools to achieve your financial goals. Your coaching lessons will serve as a valuable, re-usable resource that you draw from time and time again throughout life!
If you're looking for face-to-face, personalized help with your money, a financial coach is exactly what you need. Fill out the form to take the first step toward financial freedom!